>> Thursday, October 7, 2010
Would you like to have more Facebook Followers and be able to find new blogs or businesses? If so come and Join me Every Friday For "Facebook Follow Friday!"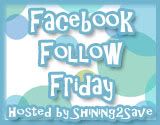 1. Add your Facebook Link, when you add it, it will automatically appear on everyone's page that posts this Linky so you do not need to add it more than once.

2. Click on the Top 3 and like/add them: The first one will be me, Shining2Save and every week I will pick 2 more randomly. Please also follow the two people above you if you would like so everyone will get at least a couple new followers. You can leave them a comment letting them know your following from the Friday Facebook Hop.

3. Add/Like as many people on Facebook as you like.

4. You do not have to make a post to join: but it is always a plus if you do so everyone else can see and join in on the fun.
Help spread the word and add this Linky to your blog! The more we spread it the more followers we will get!
Below the Linky box, you will see see "What is a blog Hop? Get the Code Here" Click on it and just copy and paste that code into your post and the same Linky will appear. Your blog visitors can add their Facebook URL to your list and it will show up on all lists!
Feel free to copy and paste these instructions or just post the button and link back to me.
Please only add your Facebook url.
Thank you and Have Fun Facebook Hopping!
This is a Blog Hop!

20

entries so far... you're next!
---